This first writing prompt I got from here.
~~ 10. Write about a time you were lost. ~~
Lost. Life's whirlwind blowing the waves. Tossed. I have mostly felt this way; out of place; no where to fit. The older I became, the worse it got. Racism made everything worse. I didn't feel like I fit in my family – always uncomfortable. Felt like I was a burden. My life for them? What's the cost? Hung out with mostly black people in school, but was never one of them either. Barriers broke down and crossed. Yet, I was the bridge – wonderful purpose; trampled underfoot. Where do I fit?!  Who are my people? What's my identity?                … Lost …
A little shorty, summer evening and I was outside playing hard. Running around the yard, the alley and the back streets. I slip into the kitchen for a drink. I hear my … a family member … on the phone. Telling a joke; whispering; hiding the words from my inquisitive mind. I can't let that slide! I press and ply. They give in, but tell me not to repeat. "What do you call a black person when they become an angel in Heaven? A bat!" Hurt, confused; this is funny? … I walk away and went back outside, to play with my … "batty" … friends. ? This is a step down from the poor white kids I play with? Didn't know categories existed…
Another summer day, a year or two away. A visiting aunt from a far way, walking away from the house to depart for the day, smiling from ear to ear; joyous, happy to see us. Began to speak to me – the youngest of the family – "You should come and visit me at my house…" A pause for a specific cause. Bent down with mouth by ear and I heard the sound. "…so we can get away from all these Black people!" Not breaking her smile as she erects herself. What did she say? I remember, the thought, 'why would I want to do that?' This was not okay! More splinters of confusion into my brain – more membranes fray.
With my closest friends. The everyday homies. They got my back! Sitting around laughing – joneing and slammin'. Like usual, I know it's coming. The white joke is on the horizon, but not towards me. Instead, why do white people … what's up with white people … yo, this white girl … but every time before delivery occurs, they turn to me, still laughing, "Hey, don't be offended" or after it was said "Sorry bro." Constantly, with good intentions, reminding me I don't fit it. That I'm on the exterior; the outskirts of unison. Unbreachable division with my closest dudes. Lost
"Let's go hoop at the park." I reply, "You know that's right!" Strolling through the streets, walking down the middle; we own this! Knuckled headed fool. Emotionally on a precipice; edge of the cliff. Get to the elementary school, hooping at the park. Blacktop blazin', smelling the burning of trees; catching that high whiff. Trying to fit in, but uncomfortable and stiff. Then, "Yo, hit this spliff!" I reply, "No, I'm good." "Come on, don't be a b****!" "Nah, I'm good." From across the way … "What's up with this White Boy?!" Approaching me, sizing me up. My guy intervenes, "It's cool, he's with me." "F*** that, get this white boy outta here!" "I said he's cool!"  Disengaged the rage of this fool; at least for the moment. Lost – but grateful for my guy sticking up. Targeted and disrespected, but I gave them that jay! My boy was crossing them up. Couldn't stop us!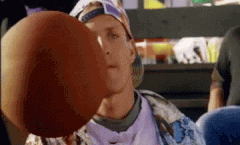 Please feel free to share your thoughts. Also, if you have a writing prompt you want to share for me to take on next week, let me know!
© Joshua Curtis, 2019